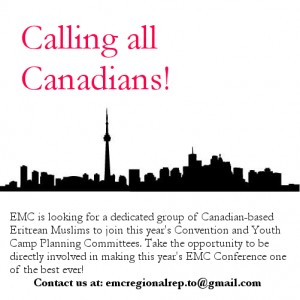 The EMC 2014 Convention is near! This year the annual event will be in Toronto, Canada from August 8th – August 11th .  
The EMC convention is a great way to meet other Eritrean Muslims from all over North America!
Canadians – the success of the conventions depend on volunteers from the local community.  If you are interested in volunteering please contact emcregionalrep.to@gmail.com.
JAK!