The Eritrean Muslims Council (EMC) is pleased to announce new matrimonial services that provide networking opportunities for Eritrean Muslims seeking to find life partners.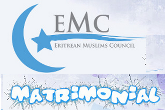 Two types of services are offered. A banquet at the EMC Annual convention and an online service.
The banquet will be held at the Annual Convention to be held in Toronto, Canada, i'A. The banquet provides an Islamic and safe environment for single Muslim Eritreans to meet and interact. The organizers include community leaders, a Sheikh and youth, all from our community.
They have scheduled a relaxed dinner gathering on the evening of Saturday, Aug 9, 2014. Cost will be recovered from attendees. More details coming soon.
---
The online service is provided free of charge. Members are able to:
Perform quick search and advanced search.

Fully manage privacy settings for interactions with other subscribers.

Fully manage privacy setting for own profile.

Receive messages.

Chat online (optional).

View location of members on a map and perform Map Searches.

Send messages to other members.

View profiles based on search criteria.

Upload pictures (optional) and view profiles with pictures.