Please join us for this FIRST LIVE EMC Halaqa Broadcast from any part of the world by phone, internet, or in person 
This Halaqa is sponsored by EMC Sister's Group.  It will be conducted in the Tigrinya language by our respected Guest Speaker Sheikh Ismael Mukhtar from Winnipeg, Canada.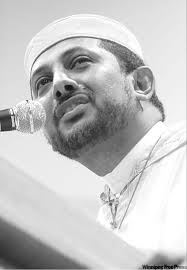 Time:  

Saturday August 9, 2014 at 9:00 PM

 EST
Duration: 25 minutes followed by a Q & A period (10-15 minutes)
 BY PHONE:
From anywhere in the world, you may call this US number: (213) 289-5915

When prompted, enter the Conference ID Number: 12304#  (Number followed by the Pound Sign #).

You will then be immediately placed into the live conference, Insha'Allah.
BY INTERNET:
Sheikh Ismael will take live questions.  To participate, please call the above number at the times specified above, login to the Adobe link listed above, or you may send your questions in advance to webmaster@erimc.org 
Please spread the word wherever you are and in your own local Eritrean Muslim communities.  

Call in about 5 minutes prior to the start of the session so we can start ON TIME.   




Come with ideas, thoughts, questions and/or suggestions to share!